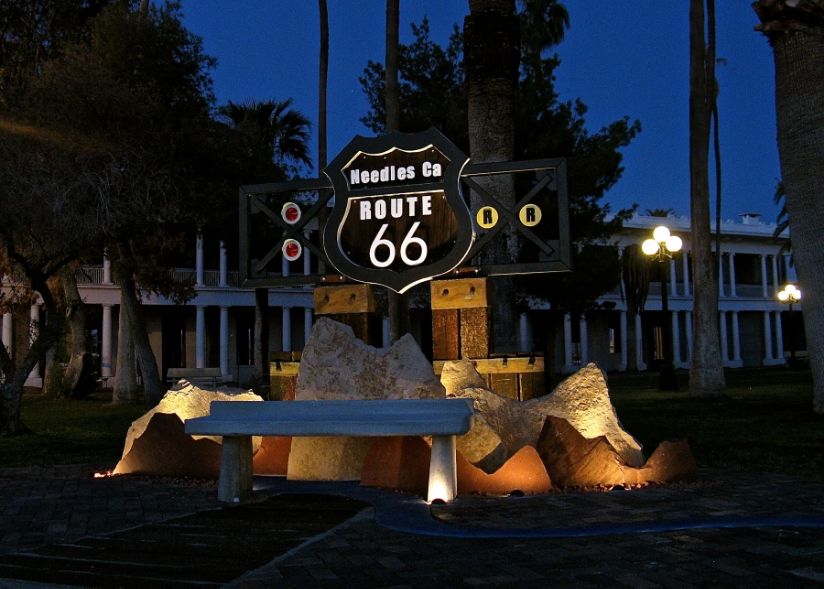 Needles, Gateway to California on Historic Route 66 Founded in 1883, as a Santa Fe Railroad town, Needles is rich in history. The first travelers came to town on the Old National Trails, a dirt road that followed alongside railroad tracks throughout the United States. In 1926 the road was renamed Route 66. Travelers fleeing the Dust Bowl in the 1930's, celebrated as they entered Needles, the first town in California on Historic Route 66. The first inhabitants in the area were the Mojave Indians. Many of today's residents are descendants from those first inhabitants. Petroglyphs dating back to the 1600's can be found in the area. Restored gas stations, Route 66 murals, and historic buildings take you back to the early days on Route 66. Needles offers very reasonable accommodations as you enjoy your day trips to Lake Havasu, AZ and Laughlin, NV., 35-45 minutes away. We look forward to your visit!
El Garces Harvey House Train Depot
The Original Harvey House was a wooden building that was destroyed by fire in the early 1900's. The new concrete building was completed in 1908. The Harvey house and train depot closed in 1949 and is now in the process of being restored. Fred Harvey built Harvey Houses across the country to provide passengers with hotel rooms and fine dining. The El Garces Harvey House was named after Father Francisco Garces who visited Needles in 1776, and is a wonderful tribute to the Santa Fe Railroad passenger trains who helped visitors discover Needles.
var _gaq = _gaq || []; _gaq.push(['_setAccount', 'UA-47845343-1']); _gaq.push(['_trackPageview']);
(function() { var ga = document.createElement('script'); ga.type = 'text/javascript'; ga.async = true; ga.src = ('https:' == document.location.protocol ? 'https://ssl' : 'http://www') + '.google-analytics.com/ga.js'; var s = document.getElementsByTagName('script')[0]; s.parentNode.insertBefore(ga, s); })();